Moonlight and I would like to thank you all so much for the comments and messages concerning these joint blogs about Poirot. We definitely had a blast with it and hope that you did too.
Today is our last joint blog post and we are going to be focusing on our top five favorite Poirot novels with a bonus that is our least favorite Poirot novel. As you will see below, Moonlight and I had some overlap here and there. I think most people that read Christie will probably say that some of our picks, are there favorite Poirot novels as well.
Moonlight Reader
Moonlight Reader's top five Poirot mysteries:
5. The Murder of Roger Ackroyd: Dame Agatha was playing with perspective and narration when she wrote this book. It was a ripping success, in my opinion, and the identity of the murderer is gobsmackingly shocking. Blue chose this as the most surprising Poirot, and I agree - it is gloriously unexpected! It doesn't rank higher than 5 for me mostly because the setting is so mundane - I tend to prefer the mysteries that are set in exotic locales!

4. Peril at End House: I am not entirely sure why I love this one so much. I like the crumbling End House, nearly falling into the sea. Christie did a good job surprising me, as well. There are some twists and turns that left me stunned. And the murderer is a cold-hearted creature!

3. The ABC Murders: This is also a departure for Christie, and is billed as one of the first "serial killer" mysteries. This is a bit misleading, since the ABC murderer, as Blue explained yesterday, is a very clever, but fatally greedy, fellow. I figured out the premise, but not the identity of the murderer midway through, but was having such a great time reading it that it didn't matter.

2. Death on the Nile: This is one of those books set in an exotic location that I love! Death on the Nile is complicated, morally ambiguous and surprising. It is exceptionally well-plotted, and the murderer is a shining star of manipulation. Definitely my second favorite, and one that I will read again someday.

And now, drumroll please, my Number One Poirot mystery:

1. Murder on the Orient Express: This is the Christie that I always recommend to readers who haven't read her books before. It is exceptionally well-done. A locked room mystery on a train caught in a snowstorm somewhere in the Balkans, a victim who is definitely worthy of killing, and a delightful group of suspects. There is nothing about this book that I don't love!
Bonus: my most hated Poirot was The Big Four. It was absolutely terrible and I have nothing good to say about it. I don't know what Agatha Christie was thinking when she wrote it, but, wow, someone should've pulled the plug on it. It's a shitfest!
Obsidian Blue

Obsidian Blue's top five Poirot mysteries:
5. Dead Man's Folly: There have been very few Poirot that actually had me feeling real fear. Maybe it was the atmosphere of Nasse house where long dead family members seem to loom. For once the character of Ariadne Oliver is not played for comic relief. Poirot meets her at her request and he realizes that her feelings that something horrible is about to happen is about to come true. The reveal of the murderer shocked me a great deal and the why had my jaw dropping.

4. Death on the Nile: I agree with everything that Moonlight says here regarding this book. I thought it was very well done and as she said the murderer is a master manipulator.

3. Five Little Pigs: Wow. I have to say that the way that this book was handled was quite brilliant. Poirot is called upon to investigate whether a woman who died in prison was responsible for the murder of her husband, sixteen years prior to the start of the novel. Poirot investigates through interviews with "five" people who were on the scene back then and through interviews manages to piece together what happened.

2. Murder on the Orient Express: I love locked room murder mysteries. And in this case, I absolutely adored the lock room murder that took place on the Orient Express. After a Mr. Ratchett is found murdered in his bed Poirot is called upon to investigate. This was definitely a slow burn mystery and I can honestly say that I didn't catch on at all with the stunning reveal. It's always fun for me to go back and read a book after I finish it just to see the clues in a new way. This one will always go down as a favorite with me.

1. The Murder of Roger Ackroyd: Yep this is my number one and Moonlight's number five. I think I love this book so much because as Moonlight says, Dame Agatha plays with perspective and narration. Once you finish the book you have to go back and read it just so that you can see all of the clues that you missed the first time through. I always tell friends who are interested in reading Christie to read this book first in the Poirot series and if they want to read Miss Marple go and read The Body in the Library first.

Bonus: My most hated Poirot...yeah I had a hard time figuring that one out and just settled on The Mystery of the Blue Train. I still loathe The Big Four too, but The Mystery of the Blue Train edged it out. This book is the anti Murder on the Orient Express. Very little Poirot is in this book and instead we have a stand in for Hastings (Katherine Grey) who is not utilized well at all. She finds herself involved with who murdered Ruby Kettering. That of course gets overlooked since this book focuses more on Katherine's love life and her falling in love with Ruby Kettering's husband. A critic review mentions this is one of Christie's least favorite Poirot novels and I can see why.
You can find our other joint posts here:
Victim Most In Need of a Bludgeoning
Thanks again everyone for reading along!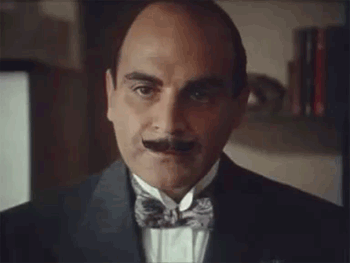 5

1
Tweet