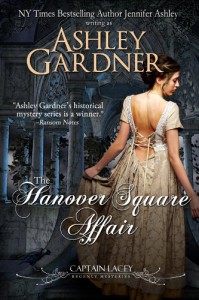 I actually bought this book all the way back on 8/28/11. It was free when I grabbed out, & is still free - I think that the author has somehow gotten it to permafree status in an effort to interest readers in the Captain Lacey mystery series.
Historical mysteries are one of my personal reading kryptonites - I love them, and have a number of favorite series. This one is written by Jennifer Ashley under her pseudonym Ashley Gardner. Jennifer Ashley is published by Berkeley, and is probably best known for her highland series. The Mackenzies, which starts with The Madness of Lord Ian Mackenzie, which made a bit of a stir when it was published back in 2011. Her Captain Lacey series is self-published - it is a ten book series, and all of the books are $2.99 or less.
I'm not quite sure why I never actually read this book after downloading it, but, hey, better late than never.
Overall, it's a pretty good read, with a lot of potential to develop into a very enjoyable series. The protagonist is a former army captain, who has lost his position because of a problem with a superior officer and former friend who is married to a woman with whom Captain Lacey has a very unusual relationship. Now that the Napoleonic wars are over, he is out of a job, and is living a bit hand to mouth. He's a gentleman, but without independent resources. He takes it upon himself to track down a young woman of good family who has disappeared under suspicious circumstances.
I have a couple of series to catch up on - I just broke down and bought the last two Maggie Hopes, and the last two Bess Crawfords. But I also have the second book in this series, and am interested to see if book 2 measures up to, or even exceeds, book 1.

14

2
Tweet