Jane And Prudence (VMC)
Few Eggs and No Oranges: The Diaries of Vere Hodgson 1940-45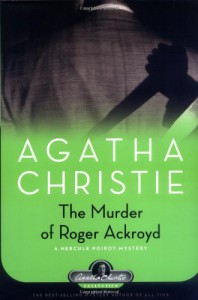 Even knowing what's coming, this book is just delightful. This time around, I am loving Caroline so much - she is so funny. I also love it when Dr. Sheppard says:
"My dear Caroline," I said. "There's no doubt at all about what the man's profession has been. He's a retired hair dresser. Look at that moustache of his."
about Hercule Poirot.


Hahahaha.
And then that melancholy moment when Poirot thinks back to his dear friend Hastings:
"Also, I had a friend—a friend who for many years never left my side. Occasionally of an imbecility to make one afraid, nevertheless he was very dear to me. Figure to yourself that I miss even his stupidity. His naïveté, his honest outlook, the pleasure of delighting and surprising him by my superior gifts—all these I miss more than I can tell you."
"He died?" I asked sympathetically.
"Not so. He lives and flourishes—but on the other side of the world. He is now in the Argentine."
Even half-way around the world, poor Hastings lack of acumen is the topic of conversation with M. Poirot.

16
Tweet