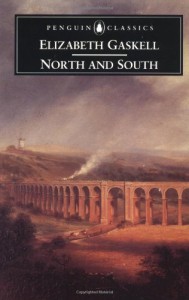 For anyone who is interested in a post-holiday classics read-along, be sure and join me in reading Elizabeth Gaskell's North and South.
Book summary (courtesy of Goodreads)
When her father leaves the Church in a crisis of conscience, Margaret Hale is uprooted from her comfortable home in Hampshire to move with her family to the north of England. Initially repulsed by the ugliness of her new surroundings in the industrial town of Milton, Margaret becomes aware of the poverty and suffering of the local mill workers and develops a passionate sense of social justice. This is intensified by her tempestuous relationship with the mill-owner and self-made man, John Thornton, as their fierce opposition over his treatment of his employees masks a deeper attraction. In North and South, Elizabeth Gaskell skillfully fuses individual feeling with social concern, and in Margaret Hale creates one of the most original heroines of Victorian literature.
I have heard basically only good things about this particular classic, so I can't wait to read. No schedule, just read and post sometime during the month of January. Tag your posts "north and south january"
If you are on twitter, #northandsouthread updates.